I am really really bad at following reading challenges, I figured it out just a few days ago when I FINALLY realized that I was suppose to link up my review on the host blog. lr sigh. BUT that does not stop me from signing up in all the NEW reading challenges for 2012!
So this time I am going to keep all my reading challenges in one post and also try and remember to link up my reviews on the host blog *~*
2012 TBR pile Reading challenge
Hosted by
Levels
1-10 - A Firm Handshake
11-20 - A Friendly Hug
21-30 - A Sweet Kiss
31-40 - Love At First Sight
41-50 - Married With Children
My goal:
I will stick to A Firm Handshake for now :)
Zombie Reading Challenge
Hosted by
Book Chick City
Levels
One Chomp: Read 6 Zombie books in 2012
Two Chomps: Read 12 Zombie books in 2012
Three Chomps: Read 18 Zombie books in 2012
Four Chomps: Read 24 Zombie books in 2012
My Goal:
One chomp for now. 6 zombie books sounds like a good dent in this genre.
Levels:
Coupon Clipper: 12 Books
Penny Pincher: 24 Books
Super Saver: 30+ Books
My Goal:
Coupon Clipper for now. 12 books sounds like a doable challenge for me :)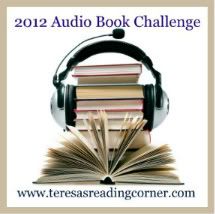 Audio Book Challenge
Hosted by
Teresa's Reading Corner
Levels
:
Flirting-Listen to 6 Audio Books
Going Steady- Listen to 12 Audio Books
Lover- Listen to 25 Audio Books
Married-Listen to +++ Audio Books
My Goal:
is to flirt
Tea & Books Reading Challenge
Hosted by
The Book Garden
Level
2 Books - Chamomile Lover
4 Books - Berry Tea Devotee
6 Books - Earl Grey Aficionado
8 or more Books - Sencha Connoisseur
My Goal
: Is to be Chamomile Lover